Nine out of ten women prefer hard hat hair. Okay, so we made that up, but you should be wearing your hard hat regardless of polls, real or made up ones.
At Jasper, SAFETY is EVERYONE'S business. If you are on-site, YOU MUST WEAR A HARDHAT, no exceptions.
This includes you, account managers! If anyone is not wearing a hardhat, report the problem immediately to the appropriate superintendent.
We value your skills as well as your skulls, so keep them safe from falling objects!
If you have any questions concerning Jasper employee safety practices, please use the contact information below.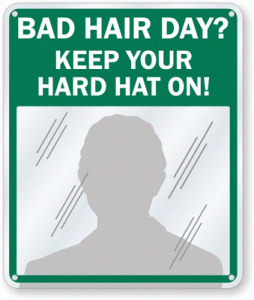 Jasper Employee Safety Team
770-701-2731
safety@jasperinc.org